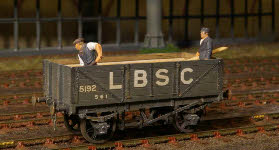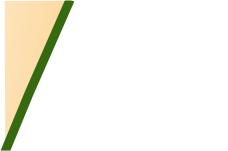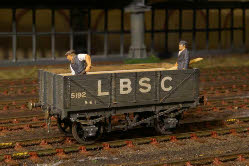 A scratchbuilt LBSC open, being loaded with timber.

Apart from the springs, bearings, buffers and wheels, these wagons are entirely scratchbuilt from plasticard.

This particular wagon is about 30 years old, and it surprises me that I had the patience to cut and glue on all the individual bolt heads, strapping, and underframe detail.

I made a series of punches from hardened silver steel to cut out the plate washers for the underframes of these wagons. The technique is to place some 5 thou plasticard onto a sheet of lead, and then use the punch to cut through the plastic.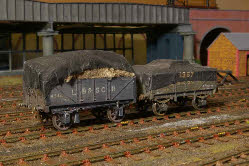 More scratchbuilt LBSC opens. The vehicle on the left is loaded with hay - plumbers hemp glued onto a cardboard former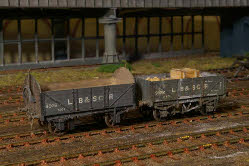 A pair of scratchbuilt LBSC opens. The left hand wagon has just a single 'wooden' brake shoe, and the tarpaulin bar to stop sheeting sagging onto the load.

The Brighton had very few vans, and this was a cheap way of providing an alternative..

.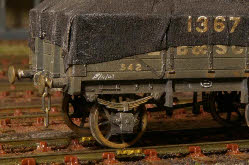 A close-up of yet another scratchbuilt Brighton open wagon.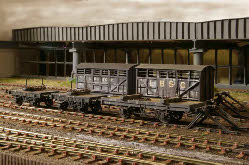 In the foreground, a pair of single bolsters, and a double bolster, and in the background two LBSC cattle wagons, showing the earlier lettering (left) and the post 1913 style on the right.